About the Staff

James Lancaster aka JLFINFAN - The Webmaster
Just in case you are interested, here is a little bit about me. I live in Norman Oklahoma, so I am also a big Sooner fan. I have 1 daughter and two little boys, my future All-Pro Tight End and Defensive Tackle...(my little boy is VERY big). I'm married to a wonderful woman who understands and accepts my football obsession. When I'm not rooting for the Dolphins and the Sooners, I enjoy playing on my computer and with my kids, watching the Simpsons and the Sopranos, as well as NYPD Blue, and playing with my parrots, cats, and dog. I am an avid weightlifter. I have been lifting for the last several years. For those of you who have been contemplating getting back In to shape, (don't quit your New Year's resolutions) I highly recommend weight training along with a good cardiovascular exercise. I am also on the lookout for new Dolphin paraphernalia that I can add to my desktop and/or website.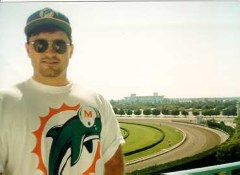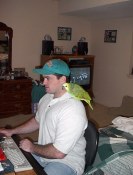 Here is a picture of me, taken a few years back. Althought it might be a little hard to see, that is Joe Robbie Stadium in the background. (To me, it will always be Joe Robbie.....) I went to the Dolphins-Jets game that day, and watched the Dolphins beat the Jets, 24-17. The other picture is of me working on the website. My parrot "Little Girl" is looking on with interest.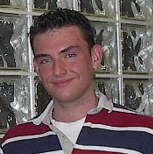 NYFCat - Columnist and Resident Draft Guru
I'm 18 years old, going to Lindenwood University, and I live in St. Louis, Missouri. I'm 5'10, 195 pounds, and enjoy weightlifting and playing basketball roughly every day. The Dolphins are by far my favorite team. When I was growing up and getting interested in football, there was no team here in St. Louis. I like seeing the town of St. Louis pumped up for the Rams, but I don't consider myself a Rams fan, although it is fun to watch them. The NFL Draft is probably my favorite thing to follow in sports. I also like the New York Knicks and the St. Louis Cardinals, but I am not a huge fan of Baseball or Basketball. I've been watching football for roughly 8 years... following it for about 3 years.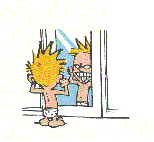 Jeff aka jmp1 - Columnist

Dolphins fan from Long Island, NY. I'm married with no children (yet) and two cats. Football is the only sport I follow religiously, and I watch every game I can - NFL, college, XFL. I truly believe that watching a Dolphins game with beer in hand is one of the finer things in life, even though the screaming, fist-pumping and profanity that accompanies this past time does nothing to help my blood pressure. Other interests include reading, listening to music (and downloading songs off Napster), watching the Simpsons, and hangin' out with my wife Christy. During the NFL season, I also spend a lot of time arguing with Jets fans.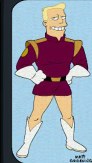 Nathan aka Killah Sith - Fin Forum Moderator and Columnist
I live in the small town of Trenton, MO and have been a diehard Dolphin fan for around 23 years now. I became a Dolphin fan because of a running back by the name of Tony Nathan. I saw him on tv and got a pack of football cards not too long after that and got his card. In retrospect, that has to be fate. "Nathan" is my first name and when you are 7 years old it's just cool to have a pro athlete with your name. The Dolphins are by far my favorite sports team, though baseball is my passion sport. I am also a huge Houston Rockets fan in basketball and a Kansas City Royals fan in baseball. On gameday I am very nervous and tense as I watch or listen to the Dolphins game. It's safe to say I get emotionally involved in the game and have little idea what is going on around me. My wife thinks I'm nuts during football season.
Speaking of my wife, she is very beautiful and loving. We've been married coming up on ten years. We have one son, who is only with us in spirit, a dorky dog(you should see her on the tennis court), one bad cat, and two guinea pigs who usually stay in my wife's classroom.