2002 NFL Draft

This page will be updated throughtout the 2002 draft with our thoughts and comments on the players selected.
| | | | |
| --- | --- | --- | --- |
| Round | Player Selected | Position | College |
| 3 (90th pick) | Seth McKinney | Center | Texas A&M |
| 4 (114th pick) | Randy McMichael | Tight End | Georgia |
| 5 (161st pick) | Omare Lowe | Defensive Back | Washington |
| 5 (170th pick) | Sam Simmons | Wide Receiver | Northwestern |
| 7 (241st pick) | Leonard Henry | Running Back | E. Carolina |

OC - Seth McKinney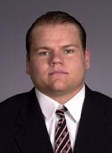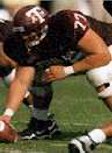 JLFINFAN's Thoughts
I was suprised with this pick. OG Terrance Metcalf was still available, and I was sure that Miami would select him. So when they called McKinney's name, I was a little upset. However, McKinney is a solid player and will make a decent backup to Tim Ruddy.
Positives - McKinney has quickness and agility. He is a smart player who doesn't make mistakes. He has good awareness and instincts, and will not stop. His motor is always running and he will play hurt. He is also a solid snapper with excellent delivery. He did not give up any sacks last season.
Negatives - Not the most physical blocker. Can be overpowered and bulled, causing him to go to the ground more often than you'd like. He has only average strength and size.
Overall - A nice selection for a late 3rd round pick. He'll be a solid contributor and could be groomed to eventually replace Ruddy. Miami got quality talent with McKinney. But like I said earlier, I would have been happier had Miami selected Terrance Metcalf.
NYFCat's View
3) C/G Seth McKinney, Texas A&M.
I had this guy rated very highly a few months ago, but I've cooled slightly on him since then. Still, a good pick. Tony Wise believes he McKinney has versatility even though he only played C in college. McKinney doesn't pack a lot of pop, but he'll be a leader on the field capable of pulling and sweeping. He'll challenge Ruddy for the starting job by year two, and will offer insurance in case Mark Dixon decides to retire. I, like everyone else, was screaming for Terrance Metcalf. But you really can't call the Dolphins ignorant; they did extensive research on Metcalf and obviously came away unimpressed.
TE - Randy McMichael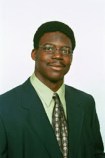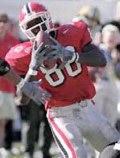 JLFINFAN's Thoughts
TE is a definite need for the Dolphins, and McMichael has a good chance of making the team and contributing. He is not a play maker, but a steady contributor.
Positives - McMichael's has soft hands and can make adjustments to poorly thrown passes. Has nice athletic ability and is a fluid runner.
Negatives - Not very strong or fast. Isn't much of a blocker and does not want to be. He does have lapses in concentration, which leads to dropped balls. Is not a play maker, and came out after only a so-so junior year.
Overall - I'm not keen on this pick. TE is a need for Miami, but I felt that the OG position still needs to be addressed, and Miami's Martin Bibla was still available. I also think that there were better TEs available. I tend to think that Miami might have reached a little with this pick.
NYFCat's View
4) TE Randy McMichael, Georgia.
I like this pick, and so should everyone else that yearned for a TE last season. I did not expect him to be here; I saw him as a late 2nd rounder. McMichael isn't a great blocker, but can definitely catch the football. He's a lot like Jed Weaver in that he's not a great blocker, but has the size (McMichael 6-3, 247, Weaver 6-4, 262) to at least hold his own. Say goodbye to Alonzo Mayes, who showed up at a beefy 290 pounds.
DB - Omare Lowe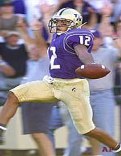 JLFINFAN's Thoughts
A tall (6'2) cornerback who can and probably will play safety. Should be a decent backup and a nice special teamer.
Positives - Has size and knows how to use it. Is a decent tackler with the ability to get better. Does possess athletic ability. Can play as a CB or a S. Has nice strength.
Negatives - Doesn't have great speed. Needs to improve his man to man coverage skills and his footwork.
Overall - A decent player who has a chance of making the team. His ability to play both CB or S is a plus. He runs between a 4.55 and a 4.6, so I'm not terribly concerned about his speed. Even though there were other players I would have selected first, I'm not upset with this pick as Miami needed some depth at the safety position, and Lowe is versatile.
NYFCat's View
5) CB Omare Lowe, Washington.
I don't have a problem with the Dolphins drafting a CB because I've always believed that a team should completely ignore needs when they get into RD's 5-7. I do, however, have a problem with this CB. He has great size at 6-1, nearly 200 pounds, but he has two qualities that absolutely kill an NFL CB: stiff hips and laps in concentration. Simply put, he is the type of CB that will often be left in the dust if he does get a good bump at the line of scrimmage. If we were looking at CB, why not UNLV's Kevin Thomas or KSU's DeMarcus Faggins?
WR - Sam Simmons


JLFINFAN's Thoughts
Who is this guy? I have never heard of him before, and am flabbergasted that Miami has not addressed areas like OG or LB. There were much better players still on the board when Simmons was selected.
Positives - Has decent speed and kick/punt return abilities. Can go across the middle and will go after the ball. Not afraid to block.
Negatives - Doesn't have great strength. Has had back problems/injuries in the past. Average hands at best.
Overall - I'm dissappointed with this pick. This was not a "need" pick, nor was it the "best player available" pick. Miami has obvious needs along the OL and with depth at LB. So why the Dolphins spent a draft pick on a guy who will be little more than a special teamer (if he makes it at all) is beyond me. His injury history, especially with his back, should have sent "Red Flags" to scouts and coaches. This was a questionable pick at best.
NYFCat's View
5) WR Sam Simmons, Northwestern.
Simmons' value will be decided in training camp when he challenges for the starting KR job. He is a mature man with a wife and two kids, and he had a productive career at Northwestern. I'm not enamored with the selection at the present time, but he is worth the pick if he can win both PR and KR jobs.
RB - Leonard Henry

JLFINFAN's Thoughts
While some fans will question this pick, I like it. Robert Edwards was brought in to backup Ricky Williams, but there is no guarantee that he can fully recover from his injury. Henry can come in and immediate compete for a backup spot.
Positives - Has the size and speed needed for a RB in the NFL. Quick burst to get out into the open. Runs hard and has nice vision. Has decent hands. Can make the big play.
Negatives - Runs too upright, and can be easy to bring down. Needs to work on his blocking skills. Needs to learn how to break tackles more consistently.
Overall - Generally by the 7th round, teams are looking for the best player available. And it could be argued that Henry was the best player left. He put up some great stats his senior year, (1432 yards rushing, a 7.8 ypc average. He also had 16 rushing TDS. He caught for 210 yards, a 8.1 yards per catch average. He had 2 receiving TDs.) and will certainly compete for a roster spot. Considering Robert Edward's injury, having a fall-back player to backup Ricky Williams is a great idea.
NYFCat's View
7) RB Leonard Henry, East Carolina.
Excellent value. Henry is a long strider with break away speed that can also return kicks. This sets up an interesting battle between Edwards, Henry, and Minor for Ricky Williams' backup.
Summary
JLFINFAN's Thoughts
I have some problems with this draft. Miami came into this draft with some holes they needed to fill. They left the draft still needing to shore up some of those concerns. Miami needs depth at linebacker. In addition, only one offensive lineman was selected. To me, these were the biggest areas to address, and Miami did not do it. I do like the pick of Seth McKinney. I just felt like Metcalf was the better player. However, it is a concern that Miami drafts only one player for the area that is probably their weakest. I would have felt much better had Miami selected another lineman, preferably an OG.
I think Randy McMichael could produce in Norv Turner's offense. He is a pass-catching TE with some talent. But he does have some drawbacks. He can't/won't block, and he does drop some easy catches. He also was not a standout in college. I guess my knock here is not so much on McMichael himself, but rather who was still on the board at the time he was taken. I personally was hoping for Martin Bibla. (I'm not a Hurricane fan, so I have no bias toward Bibla. I just think he is a good OG.)
I really have no problem with the Dolphins selecting Omare Lowe. Miami went into the draft seeking a backup at safety. They were also needing some depth at cornerback. The Dolphins potentially found both with Lowe. He has good size at 6'2. I also think a lot of critics downplay his speed. I don't have to remind Dolphin fans that neither Madison nor Surtain are speedsters. If Lowe can use his versatility and ability effectively, then the Dolphins may have found themselves a solid special teamer and backup.
Sam Simmons was the pick that really upset me. There was a good chance that he may not have even been drafted, yet Miami took him with a 5th round pick. With only 5 picks in the draft, Miami needed to be extremely selective with whom they took. I don't feel they were with Simmons. Like I said earlier, he was not a "need" player nor the best player available. I really feel like the Dolphins blew it here.
After the previous pick, I felt that Miami redeemed themselves somewhat by selecting Leonard Henry. Bringing in an extra body or two to challenge for a backup spot at RB is not a bad idea. I want Robert Edwards to succeed as much as the next guy. But in this case, it is better to be safe than sorry. Henry has an excellent chance of making the team, and I feel that Miami may have found a gem in the last round of the draft.
Overall, this draft was not too bad. We picked up a proven player with our 1st round pick. No other team can say that. So that alone raises my grade on the Dolphin's draft. But the fact that Miami did not address their most pressing needs is a big concern for me. When filling out the report card, I would give the Dolphins a C. Drafting an OG and/or a LB would have certainly raised the grade and helped Miami in the long run.
NYFCat's View
I said 6 weeks ago that if William Green and T.J. Duckett weren't on the board at #26, the Ricky Williams trade would be a success. We can now rest easy knowing that the blockbuster trade to acquire the former Saint star was our only shot at a franchise back. Was giving up our 3rd rounder last year for our 2nd this year worth it? I think so if Morlon Greenwood continues to improve. McKinney and McMichael were solid picks in the 3rd and 4th rounds, and could be starters by the end of the year. I really would have preferred different players than Omare Lowe and Sam Simmons, two players that I didn't think would be drafted. Clearly the grade for this draft depends on how Ricky Williams and Morlon Greenwood play this season. If I'm grading solely on the value of these 5 picks, I give this draft a C+.
NYF.